Enter subhead content here
Available
Title: Midnight Sun's Crucifixion
Original Artwork
By: Migdalia Caban
Medium: Acrylic
Size: 24 x 30 inches
On Stretched Canvas
This painting will fit any 24 x 30 standard open back frame.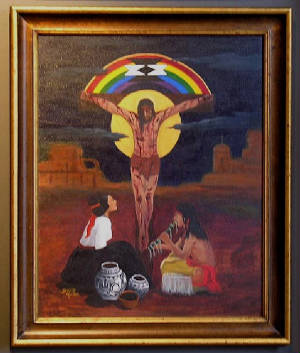 Frame on photo is not included and is for illustration only.
Signed and dated. Includes free Artist's Certificate of Authenticity signed by artist.

This inspirational painting have been framed with beautiful rustic custom made, handmade wood frame (see photos). Inspired by my latest visit to New Mexico. Images of Catholic and Native religious iconography are combined with images drown from my experience of the Acoma Pueblo Reservation and missions in New Mexico. By combining Southwest art style, Catholic and Native American religious and cultural iconography, the painting depicts the mysterious blend of two cultures and beliefs.


Copyrights Watermarks (© Migdalia Caban) are just on the photo and are not part of the painting.

Please note: I try to photograph my paintings and represent them as close to the colors in the original as possible, but please note all monitors show colors differently.

Copyrights: I retain all copyrights to my art. Copying or reproducing my works in any form is illegal without my express written consent.