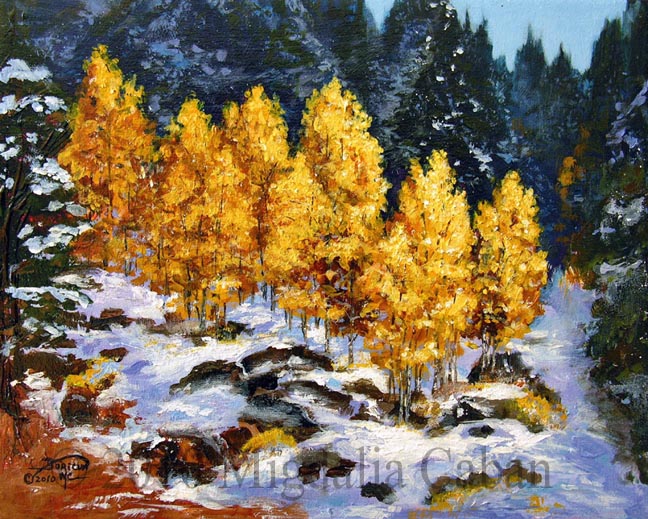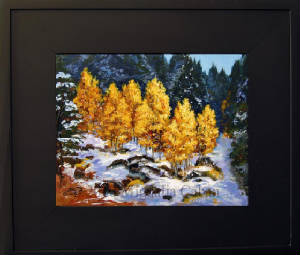 Sold

"Early Snow 1"

By: Migdalia Caban

Medium: Acrylic

8x10 Inches

On Masonite

Framed as on photo and ready to hang.

Will fit any standard 8X10 Open Back and/or Portrait frame
Description
This is an Original Painting
This is not a Print nor a re-touched Gliclée

Each autumn, I go to the Rocky Mountains in Colorado in search of that special place that will inspire my next painting. The Aspens and the mountain trails are two of my favorite subjects through the months of autumn. Each trail I visit has a world of untold stories. Sometimes, snow comes earlier than usual, and the landscape changes into a unique potpourri of warm and cool colors.

Free Artist's Certificate of Authenticity included.

Artist signature, date, finger print signature on the back side of the painting.

Copyrights Watermarks (© Migdalia Caban) are just on the photo and are not part of the painting.

Please note: I try to photograph my paintings and represent them as close to the colors in the original as possible, but please note all monitors show colors differently.

Copyrights: The sale of any of my artwork does not transfer copyright or any reproduction rights. I retain all copyrights to my art. Copying or reproducing my works in any form is illegal without my express written consent.

PAYMENT DETAILS: Full payment is expected at the time of purchase. I accept PayPal and all major Credit Cards (American Express, Visa, Mastercard, Discover) via PayPal. Shipping address must be confirmed by PayPal or order will be canceled, so please make sure you confirm your shipping address with PayPal. Payment must be received within 3 days of your order or the order will be cancelled.

SHIPPING AND HANDLING:
Will be shipped within 2 business days after full payment is verified and cleared. All orders are processed and shipped between Monday - Friday, except holidays.

Shipping and handling fee includes insurance.

USA Shipping cost will be applied if ship to USA lower 48 states.

Please note: Hawaii, Alaska and Canada pay extra, and buyer in Canada and/or any other international country pays extra shipping fee and are responsible to pay all the duty related fees, please email me BEFORE ordering for shipping and duty related fees quote.


If you think some damage might have occur during shipment, PLEASE, get a note from the person that delivered it in writing describing the damage, and take pictures of the container before opening it. If the merchandise has any damage PLEASE take pictures of all damage, including shipping container and all details. KEEP ALL SHIPPING MATERIAL AND SHIPPING CONTAINER in the same condition you received it UNTIL FURTHER instructions. These items will be needed to file damage claim.

REFUNDS & RETURN POLICY: 100% Satisfaction Guarantee for USA only. All sales for all other international countries are final and no refund nor exchange will be given. So only order if you are really sure you want this item.

100% Refund of purchase price, will be given as soon as returned merchandise has been received in good condition by the seller.

Original order's shipping, handling, Insurance, and duty related fees are not refundable. Buyer must contact Seller before any return or exchange. Item must be returned within 5 days from delivery date. Return shipping & handling costs are paid by the Buyer, and must include insurance and delivery confirmation. Return shipping and handling costs are not refundable.

Feel free to email me if you have any questions and I'll be happy to help you.


Copyright Information

© 2016 Migdalia Caban.
The Artist reserves all rights of reproduction and all copyright on the Work, the preliminary design, and any incidental works made in the creation of the Work. The Work may not be photographed, sketched, painted, or reproduced in any manner whatsoever without the express written consent of the Artist.