WHAT IS THIS FEELING IN ME?
By: Migdalia Cabán
© 2000 Migdalia Caban
What is this feeling within me....?
That stirs emotions long forgotten
And brings the thought of you so often
What is this feeling in me?

Every moment of the day
Keeps me thinking of your presence
And makes me hunger for your essence
What is this feeling in me?

At the sound of your voice,
My heart beats with expectations
And renders God the adoration
For bringing you into my life.

I dream your touch,
I thirst your waters,
And desire to discover
All the treasures within you..

Your voice I long
Your warmth I hunger.
Whether you are far or near
It makes me wonder.

Feelings I never felt
Dreams I never dreamed
Emotions never experienced
All awakening inside of me.

A sense of belonging
Of timeless perfect union
As if two souls that were meant to meet
Had finally reached their longed reunion.

It feels so fine, like a dream come true.
And my heart keeps whispering to me:
"It's ok now, go ahead.....
Let me loose"

How come I feel so close to you
when I have never seen you?
And submerge myself into your soul
So deep inside within you?

How is it that I feel your hands
when you have never touched me?
And I feel your lips kiss mine
When you have never whispered,
my name to me and into the night?

These and other questions
Are keeping my heart wondering.
If there is a plan for you and me
To which we are just responding.

So I ask once more in a silent plea
Please Lord, Is it you, or is it me?
My heart is open, desiring to give
And I ask again...

What is this feeling in me?...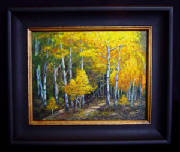 Aspens´ Invitation
By: Migdalia Cabán
© 2008 Migdalia Caban
"Come on in…," said the aspens.
"Follow the trail and be our guest."
"Step into our realm."
"Allow us to bathe you with sparkles of light,
filtering through our golden canopy."
"Let the air caress your face with a soft wind,
and embrace you with our fragrance."
"Come on in…," said the aspens.
"Follow our trail…
and let us whisper into your ear nature's melody,
with the last dance of this year's golden leaves."
Unknown Love
By:Migdalia Cabán
© 2000 Migdalia Caban
When I see your face
I see an angel sent to me
from heaven above
As I gaze into your eyes
I am looking
through the eyes of God's love.

If I came one day
to the doorstep of your heart,
would you welcome me in
or would you turn me away?

If I came to you willingly
would you give me your love?
If I whispered I love you,
what would you say?

I want to be your comfort
In your moments of despair
I want to be the shoulder
you can lean on
when life don't seems so fair.

I want to be the tender kiss
upon your cheek
that lets you know I care.
I want to be the voice
of understanding
when no one else is there.

If I beckoned for your love
would you open your heart?
Or would you hide yourself
in your own world,
and let us grow apart?

We can give our love freely,
for it is ours to give.
God is our only possessor.
Our life is ours to live.

We could make it work
if we both wish to
and make it our election,
Or we could go our separate ways
each of us our own direction.

I wish it could be simpler
but then... life never is.
It's up to us to decide
what we want to make of it.

So, If I beckoned for your love
would you open your heart?
Or would you hide yourself
in your own world,
and let us grow apart?

Could It Be?
By:Migdalia Cabán
© 2000 Migdalia Caban

Who would have thought that one day
in this unexpected way,
would cross my path an angel,
with the image of a man on his face.
And fill my days with sunshine and laughter,
and my nights with kindness and care.
Could it be just an illusion?
Just a vision for me to bear?
Or could it be a new beginning,
that your mercy has prepared?
I ask you Lord for your direction;
Is he the one you promised to share?
Or is he one of those blessings
for our moments of despair?
Guide him Lord in love I ask you
fill each moment of his day;
with wisdom and understanding,
that you touch him Lord I pray.
Are our paths to meet a lifetime,
or to go our separate ways?
Will he spread his wings and say good-bye,
or will you allow for him to stay?
Help me Lord to be obedient,
to search your way and not my way.
And keep our hearts for ever focused,
on glorifying you, each passing day.
I Breath You
Author: Tabitha Anne Limpus

I feel anticipation deep inside.
When I see your face,
Hear your voice,
Smell you

I feel calmness in our company.
When I see your form,
Touch your body,
Drink you.

You excite my soul and self.
You make me smile when I'm alone,
And sing in the dark.

I breath you.

More Prose and Poetry
Copyright Information
© 2016 Migdalia Caban.
The Artist reserves all rights of reproduction and all copyright on the Work, the preliminary design, and any incidental works made in the creation of the Work. The Work may not be photographed, sketched, painted, or reproduced in any manner whatsoever without the express written consent of the Artist.